The Games in the Series
Important News
What is Gemcraft
Gemcraft Wiki is a website totally dedicated to providing you with information on the very popular tower defense game series. Gemcraft is a tower defense flash game series produced by Game in a Bottle. The basic concept is that you use gems and power them up to destroy monsters. There are 3 games out to date.
What's New on Gemcraft Wiki
August 1, 2011- Gemcraft Chapter 2: Chasing Shadows starts development.
October 13, 2011- Gemcraft Wiki reaches 100 Articles!  Congratulations Gemcraft Wiki. 
December 16, 2011- First screenshot of Gemcraft Chapter 2. More to come soon?
January 8, 2012- Gemcraft Wiki joins Facebook!
February 7, 2012- Gemcraft Wiki reaches 200 articles! Congratulations and keep up the good work.
July 1, 2013- Gemcraft Wiki reaches 300 articles!
Contents
Helping out
To write a new article, just enter the article title in the box below.
Not sure where to start?
GameinaBottle News

Last month's polls have ended. Overall most people (71%) voted they think the upcoming map will be better than the GCL map. Also, most people (58%) voted they think weather effects will be awesome.
What would you rate GC2: CS?
Will you miss the Cyan being a shocking gem?
Want to help Gemcraft Wiki? Right now, our upcoming project is to make Strategy sections for all pages who can use one. We are still looking for a person to oversee the project. If you want to become head of the Strategy sections, leave a message on my message wall. --LevenThumps 20:09, April 7, 2012 (UTC) If you don't want to help there, you can just find an article that needs a little attention and get started.

Create blog post



I'm writing here to get the admins attention, many things have to be added for the new game, some of which require admin intervention.

Is any of you still active?

Is there any of the active editors tha…

Read more >

GameInABottle is ready to working ont the next Gemcraft - gameinabottle.com/blog

Read more >

There needs to be an in-game timeline of events, if there hasn't been already. Now there isn't an official span of years that I know of. Please feel free to correct me on that, or anything that needs…

Read more >
See more >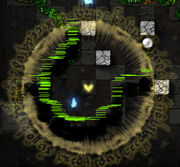 If you want a gem to have a strong special ability, but also benefit from the triple (or dual) bonuses, create 2 or 3 grade 1 gems, each of a different type, combine them together, and then build onward using only pure gems of the type you want to boost.